Using Zendesk Chat Handoff
When your users need to speak with an agent and live chat is the best way to solve their issue, the Forethought Solve Widget can be configured to handoff to Zendesk Chat on the Classic Widget. This will seamlessly navigate the user from the Forethought Widget to your Zendesk Chat Classic Widget. From there, your users will be connected to the best department to address their issue as quickly as possible.
Setting up Zendesk Chat Handoff
Configuring my Site for Zendesk Classic Chat Handoff
Configuring your Zendesk Guide Site
To set up your Zendesk Guide site to have the Zendesk Chat Widget present, you will need to navigate to "https://[YourDomain].zendesk.com/admin/channels/classic/web-widget" . From here, you will need to navigate to "Channels">"Classic">"Web Widget">"Setup". You will see a page like in the image below where you can toggle the switch to enable the Zendesk Chat Widget on your page.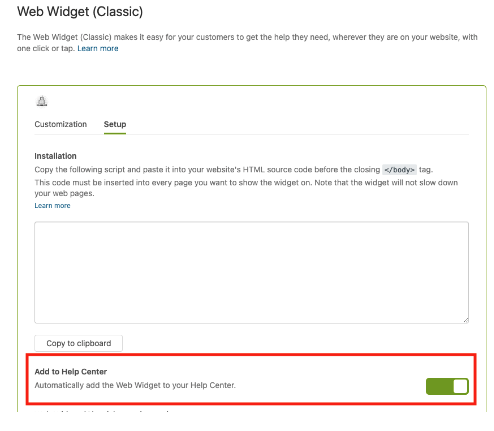 Configuring Departments
It is important that your customers are routed to the correct departments so that they can be helped as quickly as possible. Forethought's Zendesk Chat Handoff allows you to configure the handoff to work in alignment with your Zendesk chat departments.
You can assign agents at the following page: "https://[YourDomain].zendesk.com/chat/agent#departments".
The settings for configuring your departments is found in the "Settings" > "Departments" page.

After you are done adding agents to your departments, you will need to make sure that the Zendesk Chat Support Department is online. You can do this by visiting "https://[YourDomain].zendesk.com/chat/agent#department".
From this page, click on your desired Support Department. Find the the "Group status" setting "Enable in Chat" is checked/active.

Next, you will need to visit "https://[YourDomain].zendesk.com/admin/channels/classic/web-widget" and make sure "Help Center" and "Contextual Help" are turned off

("Contextual Help should be below "Help Center" in the screenshot, this is not applicable for all Zendesk customers).

On that same page, make sure that "Contact form" is disabled.

Once you have completed these steps, your departments should be ready to start receiving traffic in Zendesk Chat that are being handed off from Solve Widget.
If you're using Workflow Builder and have multiple departments, inform your Implementation Engineer or Customer Success Manager so that they can assist you in setting up our Forethought Zendesk Chat Connector. This will allow you to select a specific Zendesk Chat Department where Solve Widget will send chats.