We know you are constantly looking for ways to improve your CSAT and increase retention rates. Meeting your customers where they are—in their preferred language—will help provide them with the premium service that they expect. Multilingual Support for Solve provides customers with automatic translations of their Solve workflows in the languages listed below. Forethought Admins will have the ability to make edits to the automatically translated phrases.
How Does It Work?
When a customer starts chatting, Solve will recognize it and reply in that language. Solve will also adjust to a new language if a customer changes their language in the middle of the conversation. Additionally, Forethought Admins can set up languages to be applied automatically based on geographic data.
Getting Started
Click on the Translations Icon at the top right corner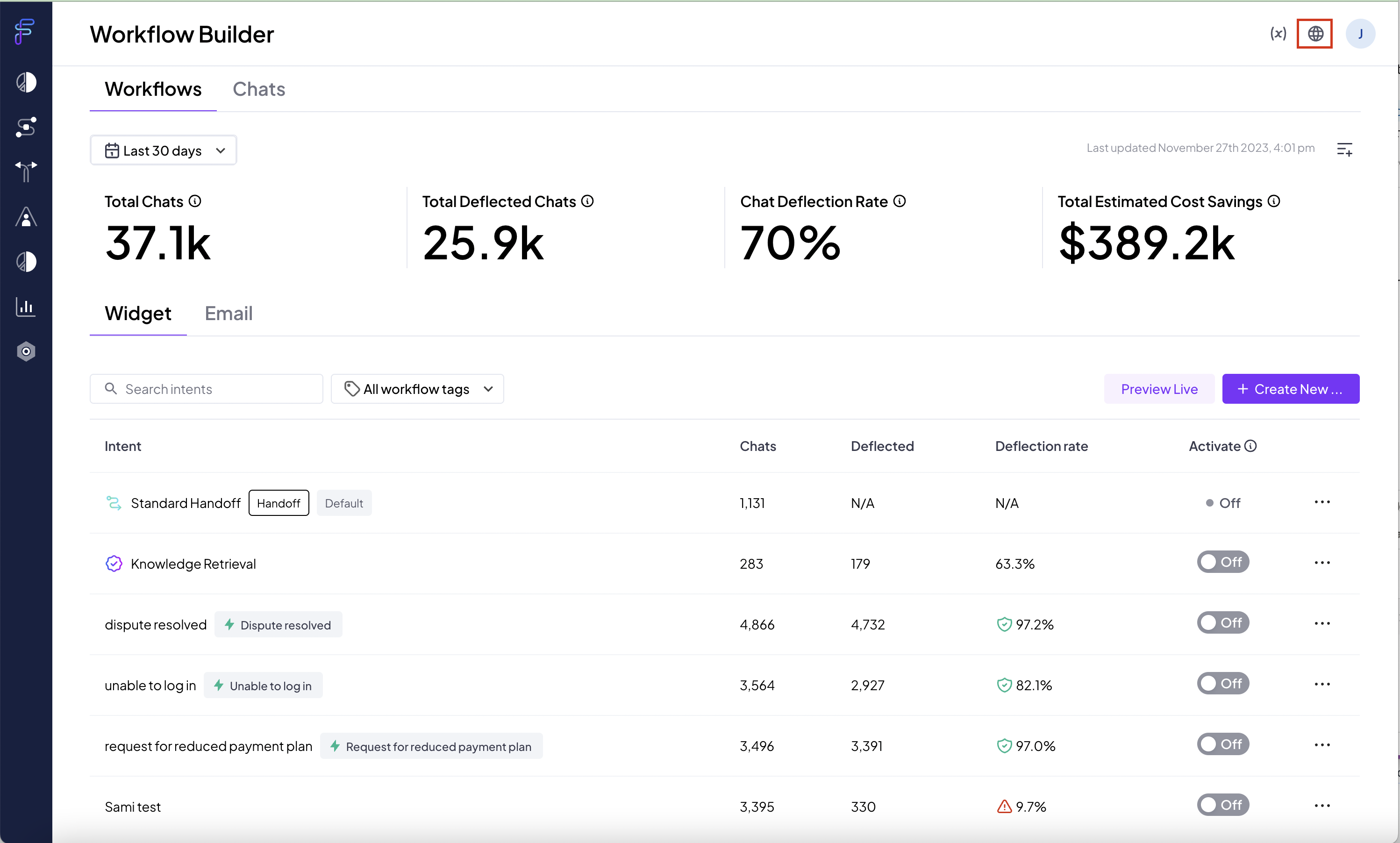 Click to check any languages that you would like to enable, then click on "save" to automatically translate all saved workflows into the language of your choice.

Note:
Clicking save will translate content from the saved and draft version of all workflows.

If at a later date, workflows in a draft state are saved, translations for the draft version would be dynamically applied to the saved translations.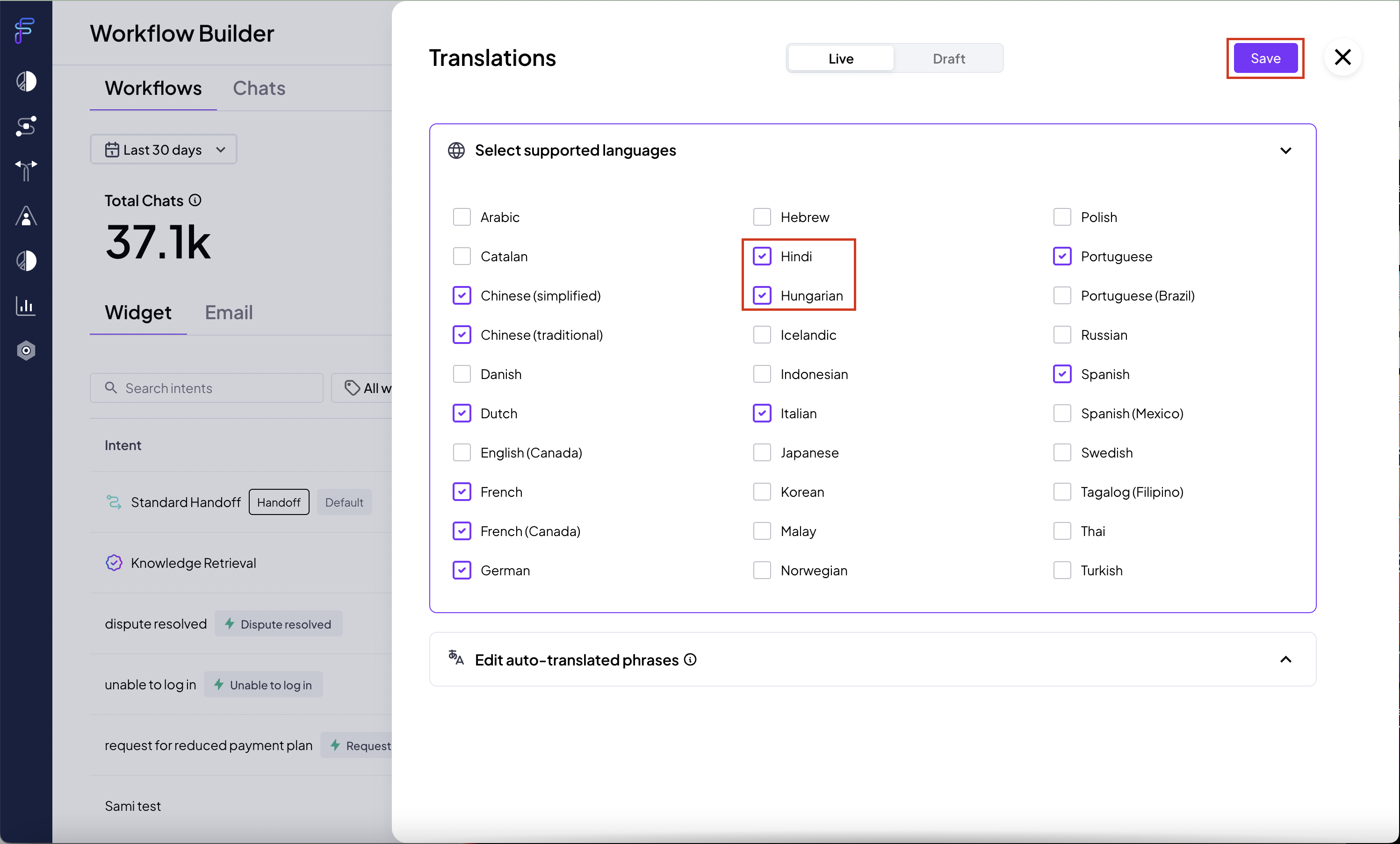 For all enabled languages, you can see a list of workflow steps in English and the auto-translated value per language.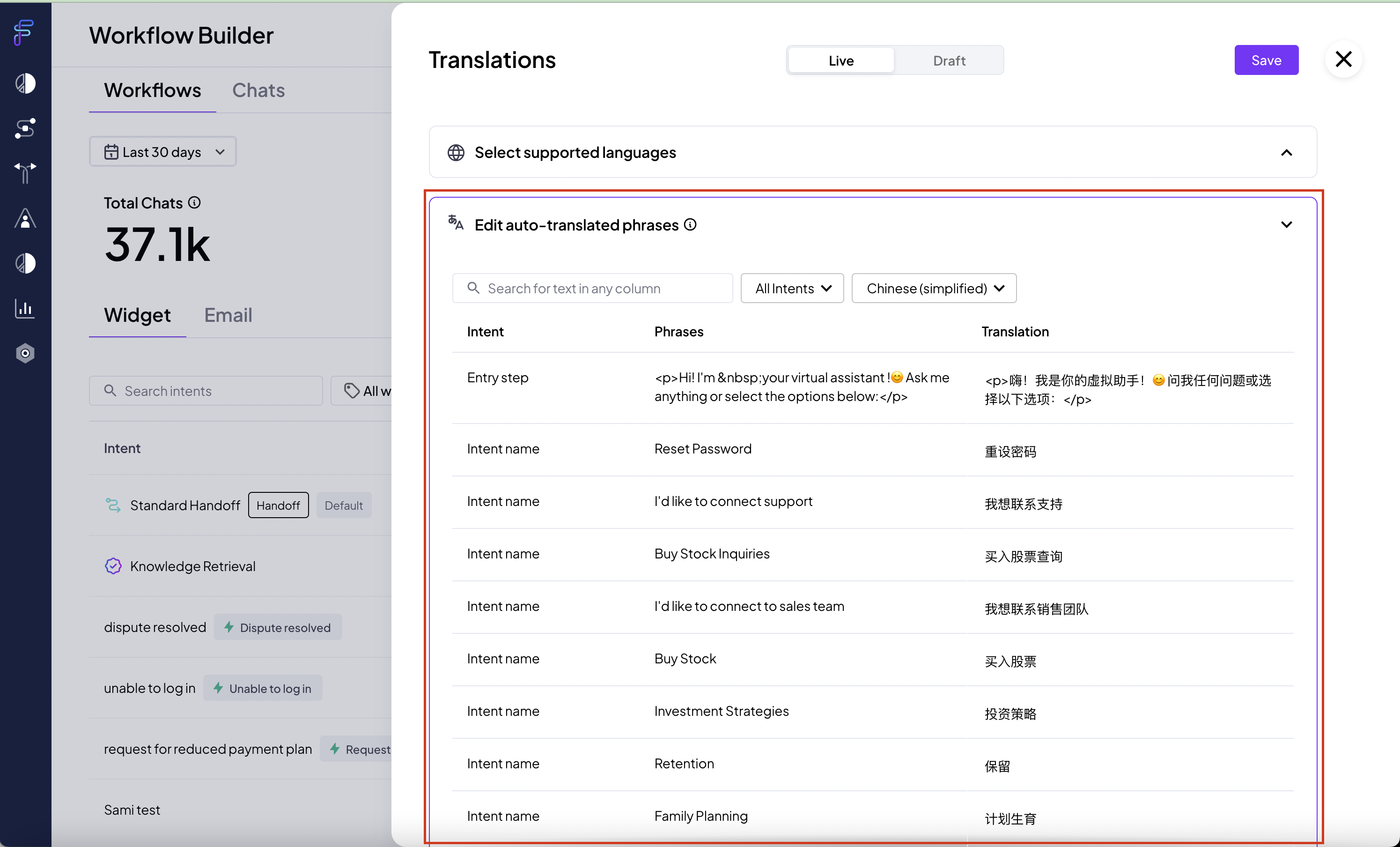 Use the Translations droplist to toggle between languages.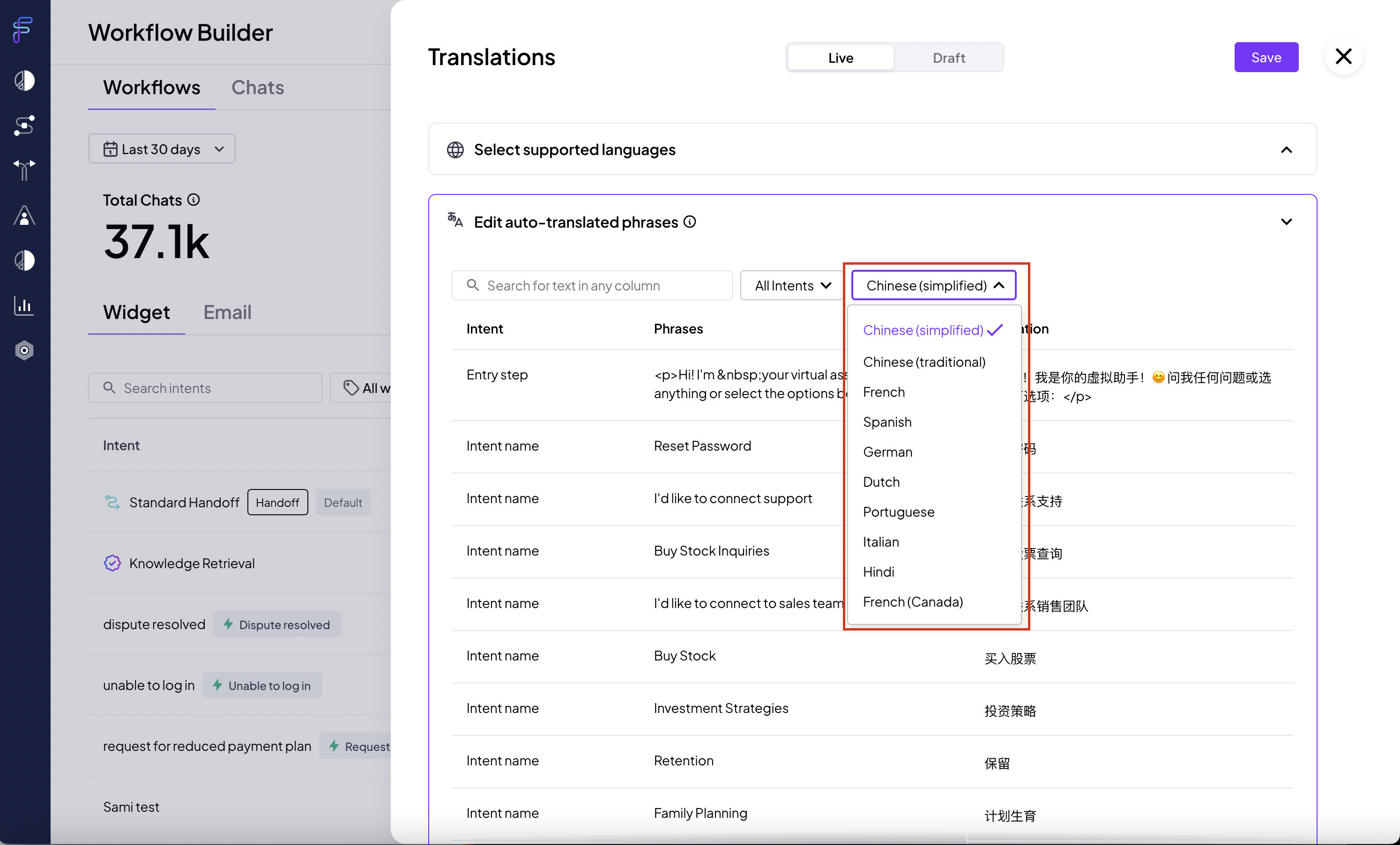 Use the Type droplist to toggle between proactive prompt, entry step, or individual intent translations.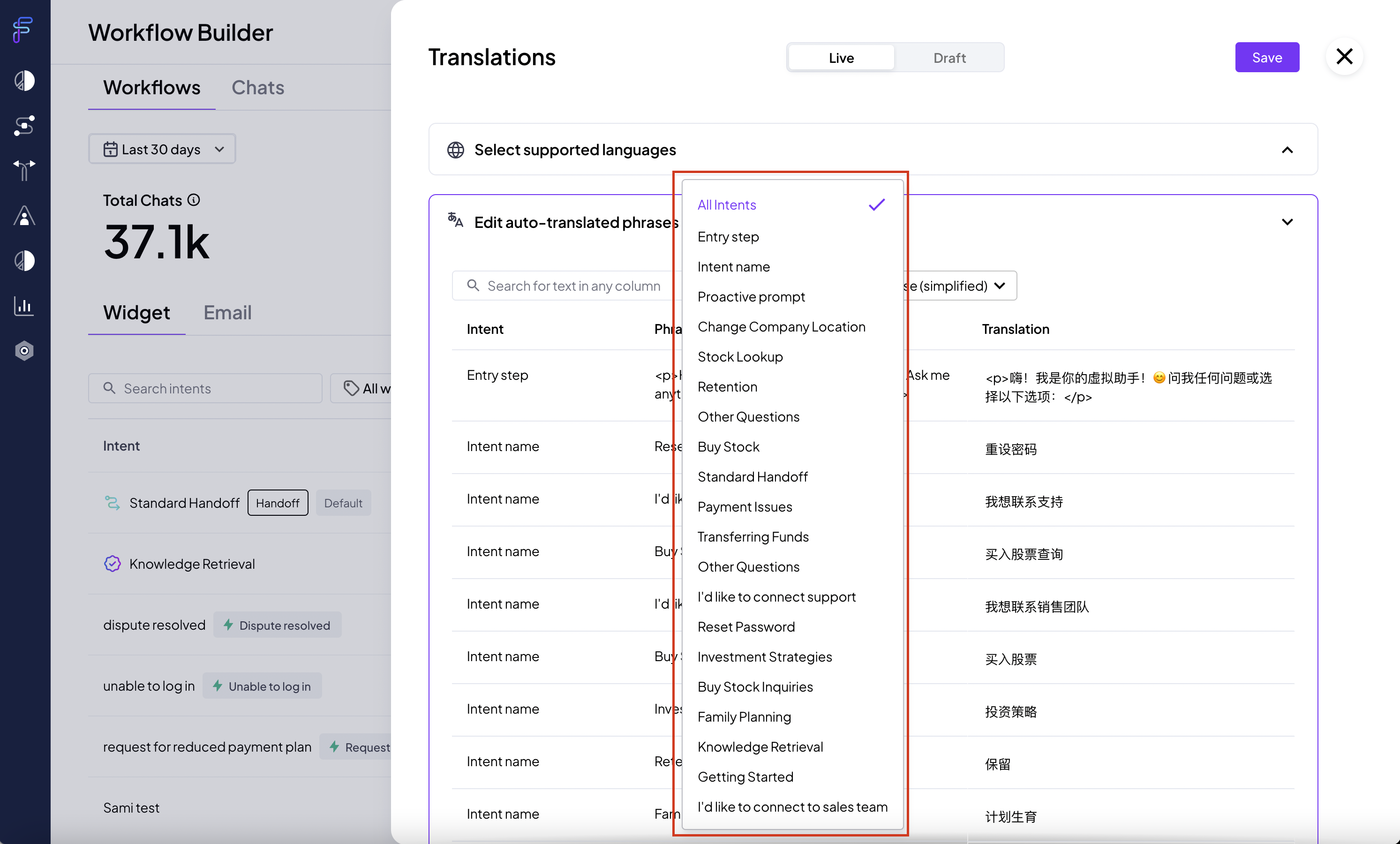 If you would like to provide a more accurate translation, enter it via the translation box, ensure to click on "Save".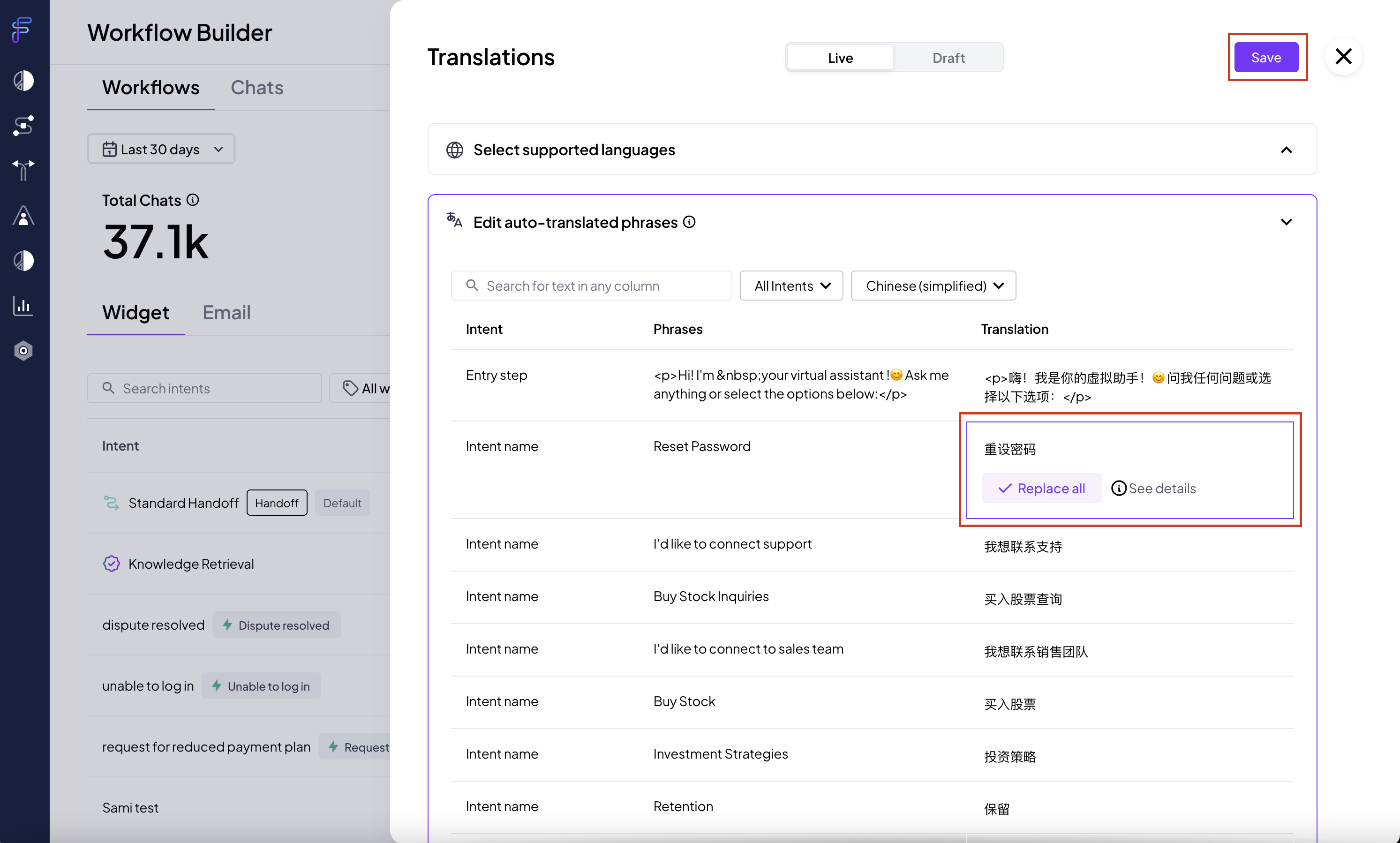 For a commonly used phrase, override the translation once and apply to all the other phrases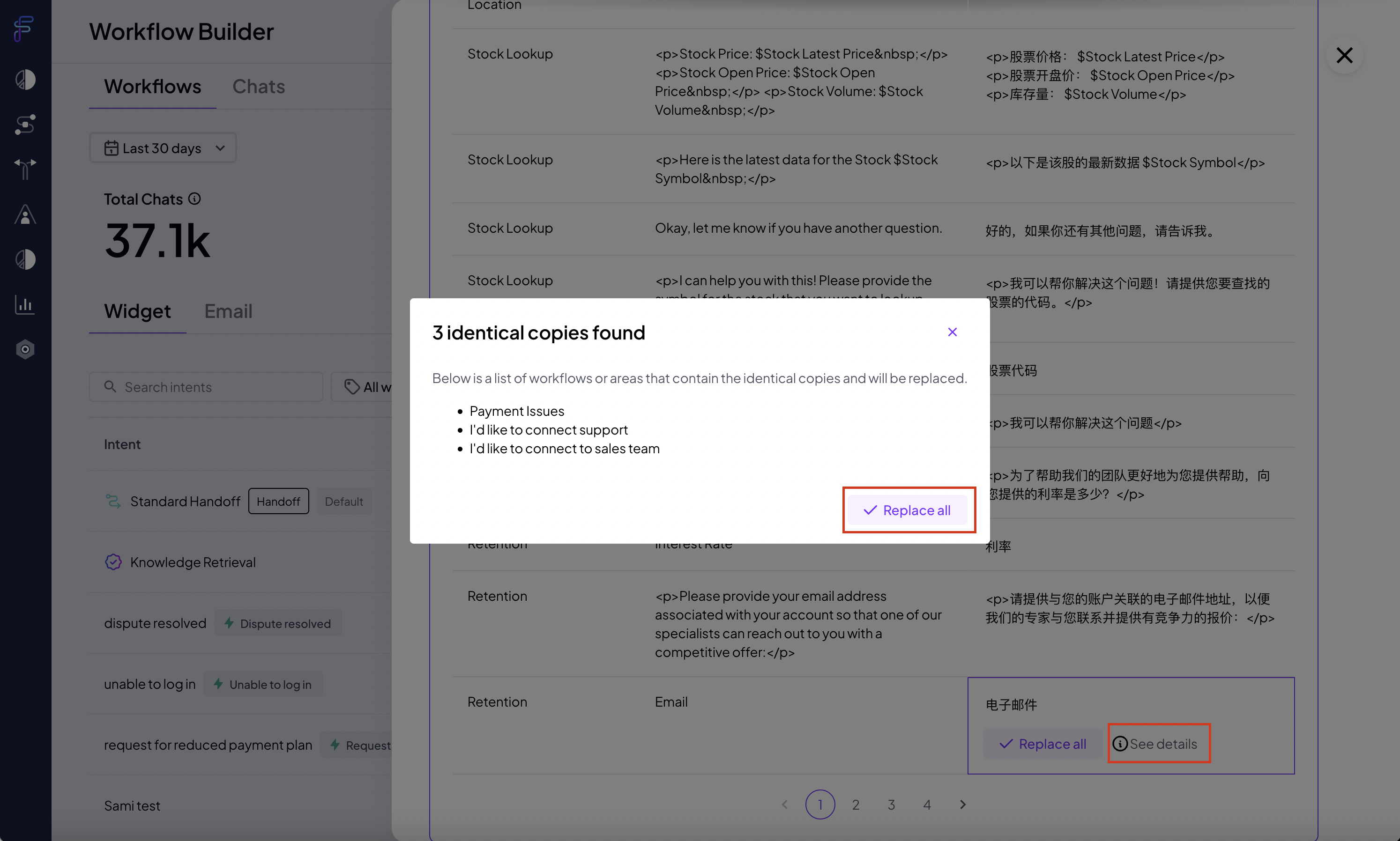 After saving a manual change, if you would like to change back to the automatically translated value, click on "restore" to revert back to the original translation.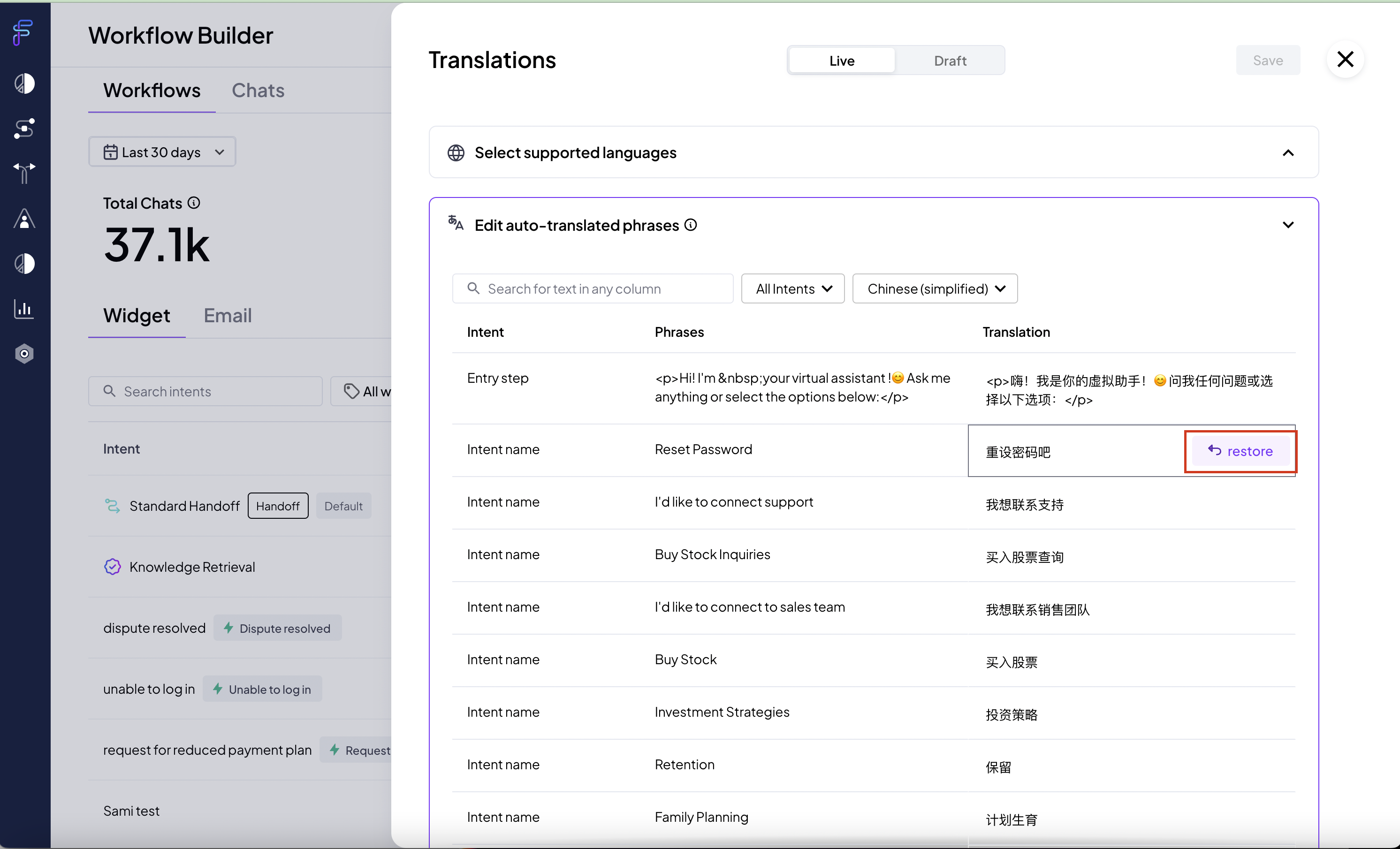 Use search box to narrow down the phrases.
Switch to draft mode to override translations for draft steps before publishing them to the users.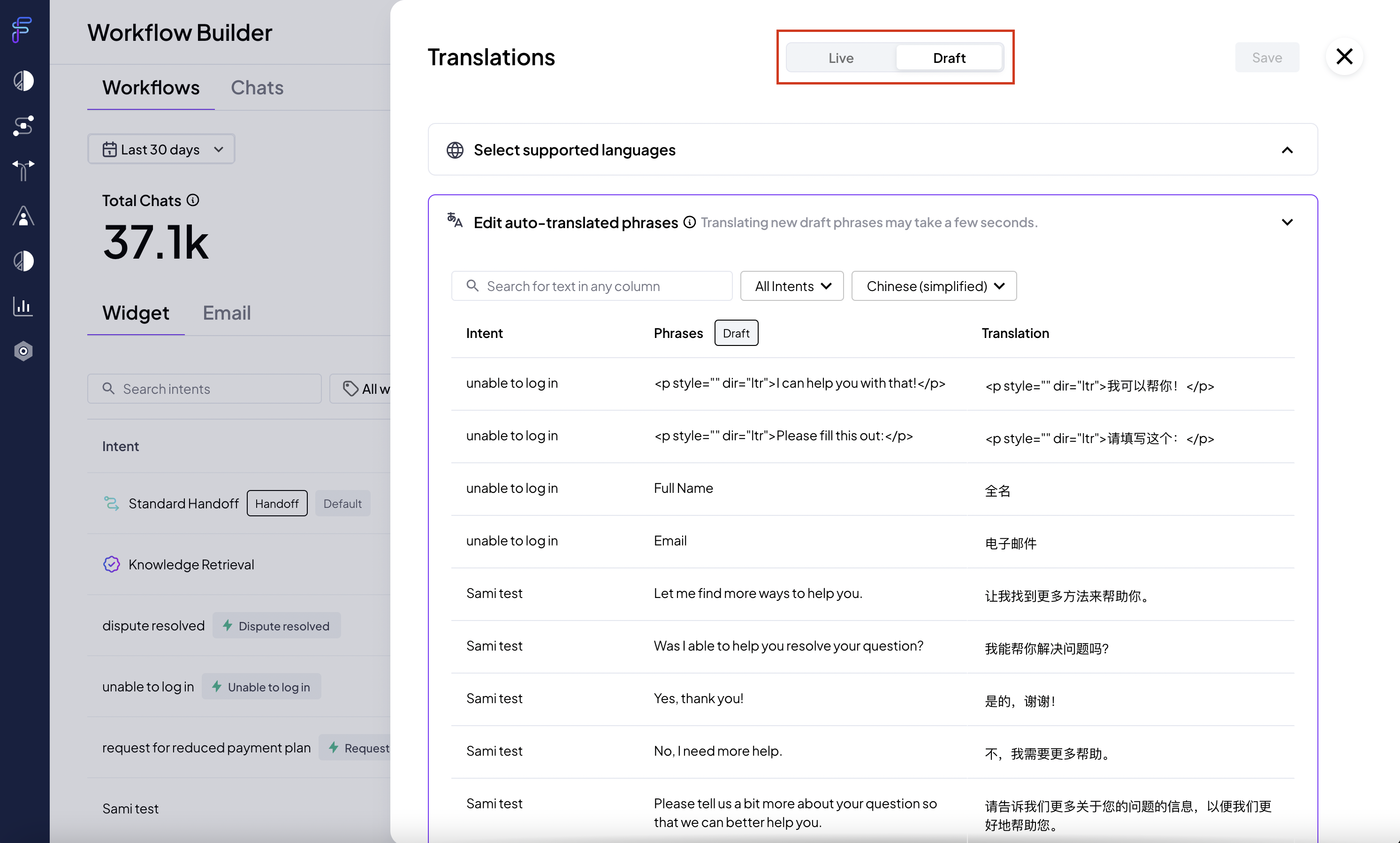 View translations for a step inside the canvas: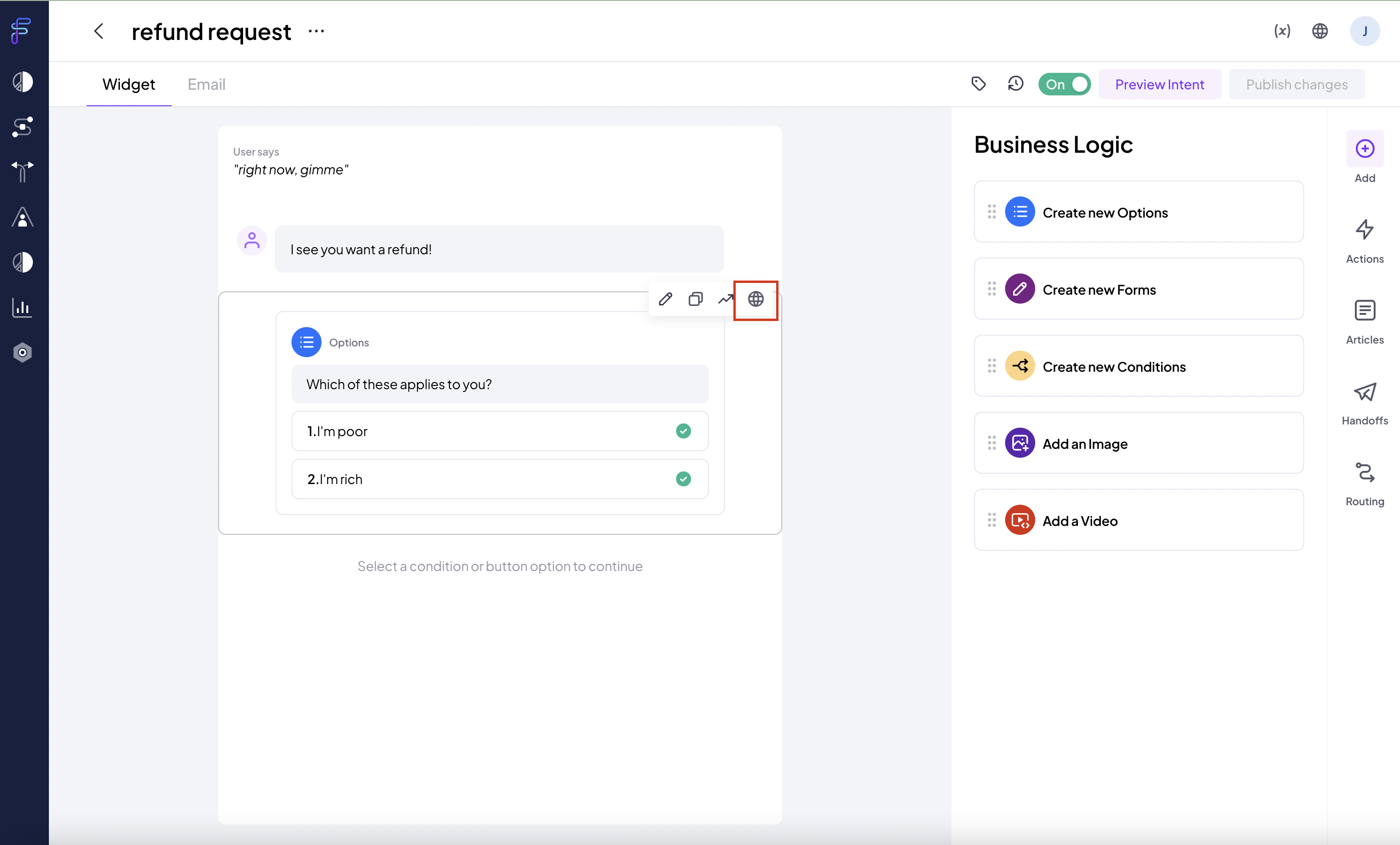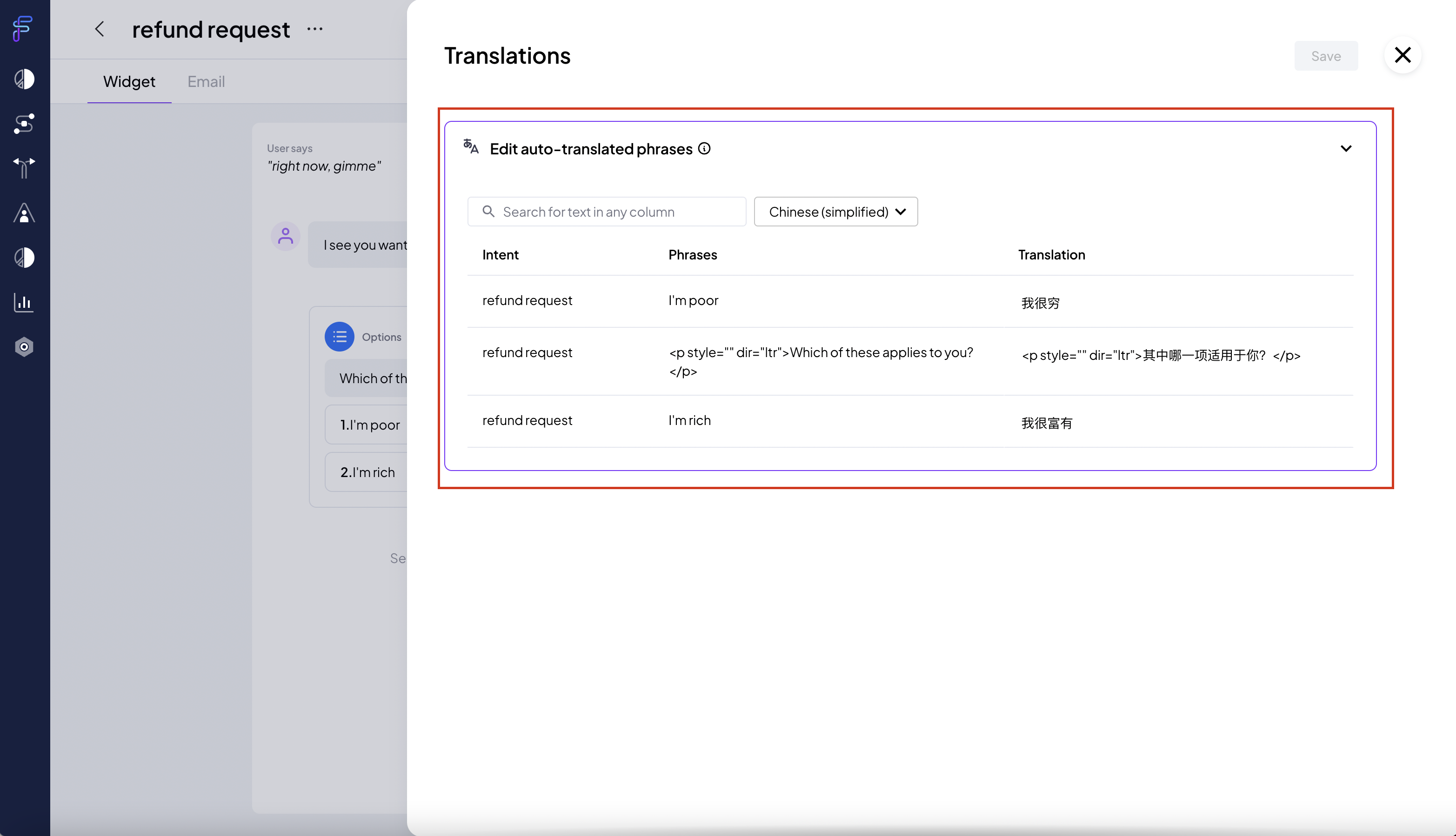 Last step! When you embed the widget onto your site, if you would like the conversation to start from a language, add the "data-ft-embed-script-language" script tag, specifying the language that you would like the chat to start with.
For example, if you'd like conversation to initialize in Dutch, add the following script tag to the page the widget is embedded:
data-ft-embed-script-language = "nl"
If the script tag has not been specified, the conversation will default to start in English.

Note that this has to be one of the languages that is enabled in the translations panel. If no language is specified here, then Solve will learn to recognize the input language of your customer when they type to ask a question, and run the rest of the support experience in that language.
Supported Languages
Solve Widget supports the following languages.
| | |
| --- | --- |
| Language | Language code |
| Arabic | ar |
| Catalan | ca |
| Chinese simplified | zh |
| Chinese traditional | zh-TW |
| Danish | da |
| Dutch | nl |
| English | en |
| English (Canada) | en-CA |
| French | fr |
| French (Canada) | fr-CA |
| German | de |
| Hebrew | he |
| Hindi | hi |
| Hungarian | hu |
| Icelandic | is |
| Indonesian | id |
| Italian | it |
| Japanese | ja |
| Korean | ko |
| Malay | ms |
| Norwegian | no |
| Polish | pl |
| Portuguese (Portugal) | pt-PT |
| Portuguese (Brazil) | pt |
| Russian | ru |
| Spanish | es |
| Spanish (Mexico) | es-MX |
| Swedish | sv |
| Tagalog (Filipino) | tl |
| Thai | th |
| Turkish | tr |
How to Change Default Language
Use the Language Code in your Solve Widget code snippet to change the default starting language (default starting language is English unless you specify otherwise).
Don't see the languages you need? Contact us here.