Forethought's Integrations are an easy and straightforward way to connect all of your various knowledge sources to Forethought! Through the simple UI, you can quickly set-up new connections that surface supported information through Forethought's Assist, Widget, and Email channels.
To access Integrations:
First, navigate to your Forethought Dashboard and click on the Integrations tab on the left-hand side (located under the Settings dropdown). If you do not see this tab, please reach out to your Forethought CSM to get access.
Once in Integrations, you should see a screen listing connections that are either in Active (meaning the connector is already live) or Available status (meaning the connector is not yet set-up).
Active Connectors
Clicking on a connection that is Active will pull the details of that specific connector, as well as the information required for setting it up. The different statuses for Active connectors are:
Connected / Active - the connector is currently active and accessing information.
Connected / Warning - the connector is connected but not currently active.
Connected / Error - there is an error, or the connector is disconnected.
Opening an Active connector will also provide additional details into it's current state.
Overview - provides data on set-up and indexing such as, the user to last edit the connector, the last indexing date and status of the job, whether or not the connector has authorized Forethought to write data to the application. You can learn more about the indexing process here.
General Preferences - these are requirements specific to each individual connector, however you can edit them to customize the connection experience by clicking the Edit Preferences button.
Additional Settings - depending on the knowledge source, you may also see some additional set-up options such as filtering or blacklisting options, again, these are specific to each connector's available options.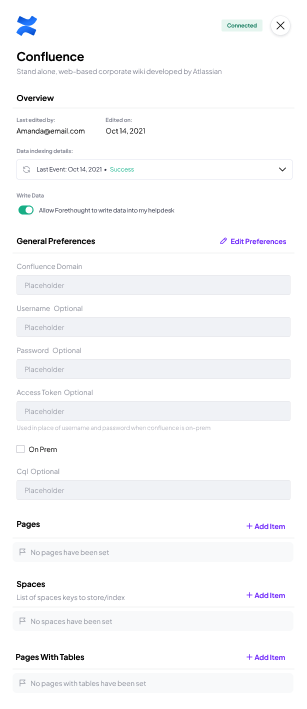 Available Connectors
Available connectors are integrations that are not yet set-up. In this state, all connectors will display a status of Disconnected. You can set-up a connector by first clicking on it and pulling up the connector details.
Once you open up a proposed connector, you will be presented with:
An overview of the connector and knowledge source.
Instructions on how to collect the required information and API keys needed for connection.
The general requirements and information that is needed to connect to the knowledge source.
To connect, add in the required information and click on the Connect button, you will be presented either with a successful connection and the status will switch to Active - or the system will present an error and will remain in the Available section.
Note: some connectors will require a domain and will redirect your browser window to an authentication process. Going through the supported authorization links is part of the standard connection process.